Puffy Paint Watermelon
Supplies:
Shaving Cream
Glue
Food Coloring
Black Paint
Paintbrush
Card Stock Paper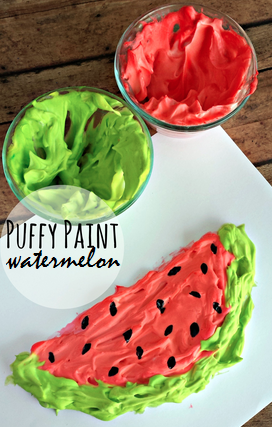 Directions:
Start by mixing glue, shaving cream, and food coloring in a bowl
Mix equal parts of glue and shaving cream.
Stir in until you get stiff peaks in it. YOu can always adjust the amounts.
Once you have the perfect vibrant colors, start painting the inside of the watermelon.
Take the green puffy paint and go around the outside to make the rind.
Grab a paint brush and dip it in the black paint. Put dots all over the watermelon to make the seeds and you're done!
Note: when colors dry they turn darker.
http://www.craftymorning.com/puffy-paint-watermelon-craft-kids/