Walking Tacos
Supplies:
1 pound ground beef or turkey
1/2 up diced onion
1(1 ounce) taco seasonig packet (or homemade taco seasong)
6-8 snack sized bags of Fritos or Doritos
Suggested Toppings:
black beans
Lettuce
tomato
shredded cheese
sour cream
ranch/salsa mixture( 1:1 ratio prepared ranch dressing and your favorite salsa)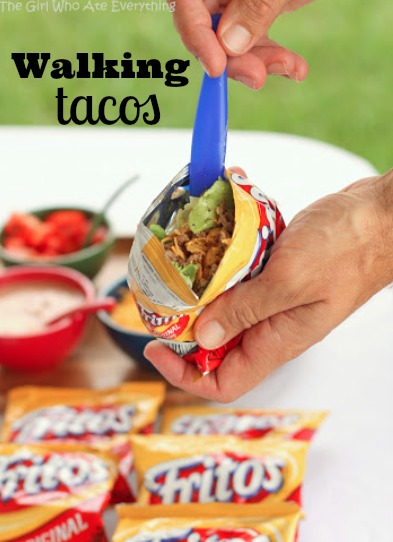 Directions:
Brown beef or turkey and drain the fat.
Add the onion to the meat and sautee a couple of minutes until soft.
Add the taco seasoning along with 1/2 cup of water and simmer until water is absorbed.
If serving immediate pour in a bowl. You can also combine the meat and black beans if you want and keep them warm in a slow cooker.